Marisa Jones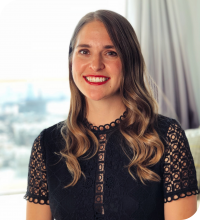 Policy & Partnerships Director
Marisa Jones serves as the Healthy Communities Senior Manager for the Safe Routes Partnership. In this role, she works to improve active transportation connections to places that help people lead healthy lives, including schools, grocery stores, and parks. Marisa leads the Safe Routes Partnership's work on Safe Routes to Healthy Food, bringing the active transportation and healthy food access sectors together to identify strategies to overcome the transportation barriers to healthy food access. Marisa also works on Safe Routes to Parks, which aims to improve pedestrian safety and accessibility of parks and open space. Working at the intersection of planning, public policy, and public health, Marisa is passionate about using place-based strategies to optimize community health.  
Prior to joining the Safe Routes Partnership, Marisa worked at the Institute for Public Health Innovation, where she led the Healthy Eating Active Living (HEAL) Cities and Towns Campaign for the Mid-Atlantic, supporting local governments to adopt policies that improve healthy food access and opportunities for physical activity. Prior to IPHI,  Marisa worked at the University of Pennsylvania School of Medicine conducting research on racial disparities in breast cancer prediction models and interned at The White House during the Obama Administration, where she specialized in a portfolio of casework related to immigration, housing, personal finance, and education.
Marisa completed a Bachelor of Arts in Community Health and Political Science at Tufts University and a Master of Science in Social Policy at the University of Pennsylvania, focusing on the relationship between geography and health. At Penn, Marisa co-founded the Hispanic/Latino Alliance for Change and Equity (HACE) and was awarded the Wilson-Spigner Award for Social Policy Excellence. Marisa is bilingual in Spanish and English.