Safe Routes Partnership E-News
Issue #198: September 2022
Safe Routes Partnership E-News is a monthly email newsletter published by the Safe Routes Partnership. We are also on Facebook and Twitter. Join us!
---
1. Registration is Now Open for the Safe Routes to School Summit 2022
Early bird registration for the Safe Routes to School Summit 2022 is now open! Discounted registration rates are available through October 14. Spaces are limited.
Register now to join hundreds of Safe Routes to School and active transportation professionals for a three-day virtual summit to showcase best practices, share success stories, and learn from one another to implement strong and sustainable Safe Routes to School programs in your community. We hope to see you there! Register here.
---
2. Walk, Bike, & Roll Webinar Series - Back to Basics: An Introduction to Safe Routes to School
New to Safe Routes to School – or just in need of a refresher? Join us on Wednesday, October 19 from 2 – 3 pm ET, as we explore the basics of starting and growing a Safe Routes to School program. Learn about the benefits of Safe Routes to School, the 6 E's framework, ideas for initial education and encouragement activities, and more! This webinar is part of a series of free webinars supported by General Motors and presented by the Safe Routes Partnership. Register here. 
---
3. Dollars and Deadlines: A State-by-State look at the Transportation Alternatives Program
Federal funding for walking, bicycling, and Safe Routes to School through the Transportation Alternatives Program has increased in every state. But how can Safe Routes to School practitioners, and walking and bicycling advocates identify, apply, and access that money? Read our latest federal policy blog to see our state-specific fact sheets on the Transportation Alternatives Program and find all the details on your state's funding.
---
4. During Hispanic Heritage Month, Let's Think About How We Value Cultural Knowledge
Hispanic Heritage Month is a time to celebrate the vast and diverse contributions that Hispanic people bring to our world through their deep connections to culture, history, and experiences that connect to our broader communities.  Read more in our latest blog here.
---
5.  Get to Know Our Staff – Kori Johnson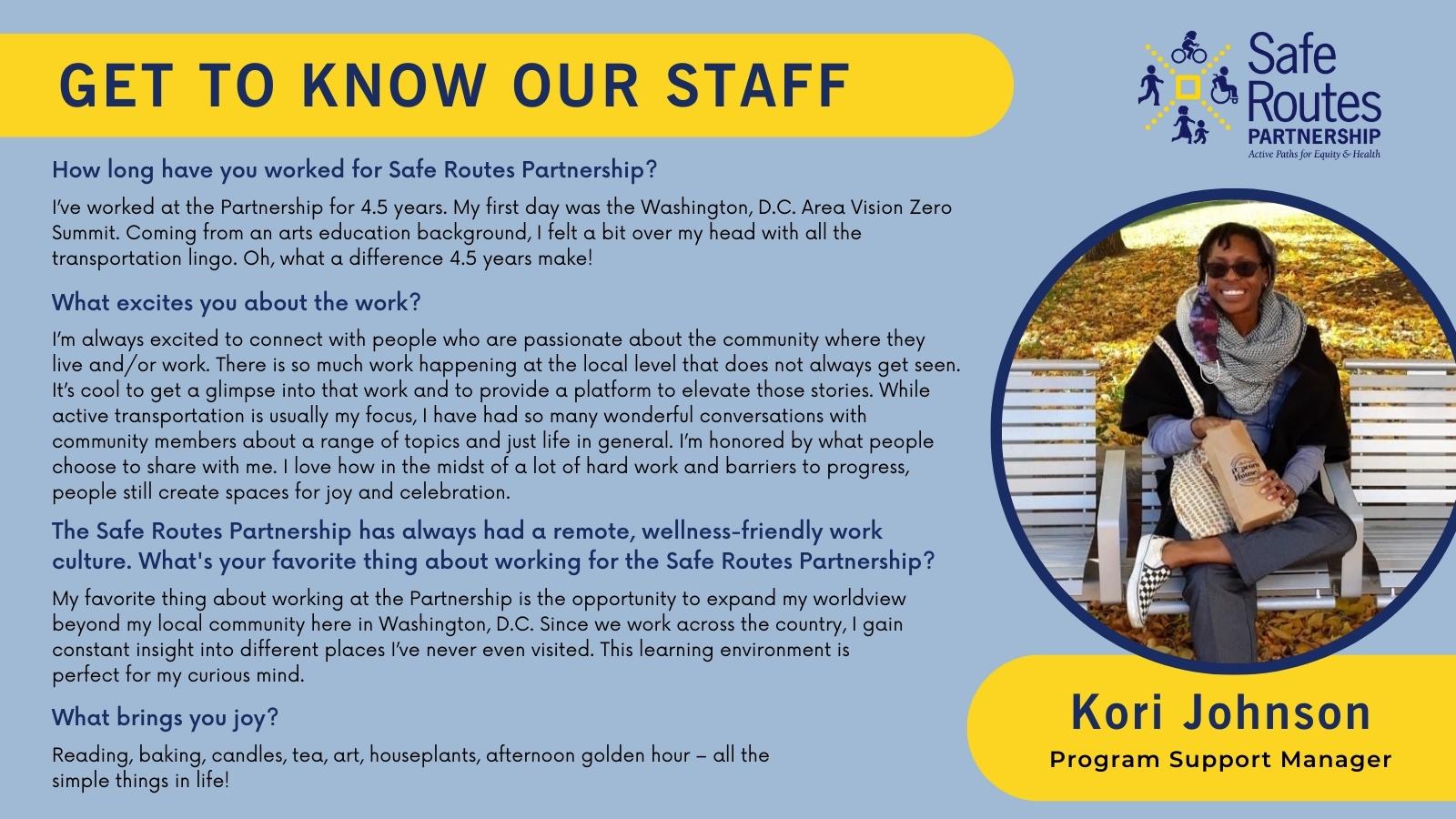 As the Program Support Manager, Kori provides program technical assistance, leads trainings, develops resources, and supports the consulting work of the Safe Routes Partnership. Get to know more about Kori here.
---
 6.  Register for Walk & Roll to School Day!
Registration is now open to participate in the 26th Annual National Walk & Roll to School Day on October 12, 2022. Whether addressing the need to make routes to school safer for active trips or encouraging children to be more active, Walk & Roll to School Day events can be powerful tools to inspire lasting change. Register today!
---
 7.   Ruby Bridges Walk to School Day Registration Open!
Join students across the country who are continuing the movement to end racism and unify our communities. Sign up your school, your family, or your community group, and pledge your commitment to support Ruby Bridges Walk to School Day, an annual day of dialogue to commemorate her historic steps on November 14, 2022.
---
 8.   Get Moving with Moving Matters!
Taking care of yourself is one of the most important things you can do for you and your family. One way to do that is to get regular physical activity. Increased physical activity can improve your sleep, reduce stress, and lower your risk of heart disease, stroke, some cancers, and type 2 diabetes.
We are joining other local and national organizations in supporting the Moving Matters campaign, part of the Active People, Healthy Nation℠ initiative, to help promote the benefits of physical activity, encourage people to find small ways to incorporate movement into their day, and remind people that physical activity can be fun.
Visit ww.cdc.gov/MovingMatters to learn more about the campaign and explore ways to get moving!
---
 9.   Award opportunity: 2023 Vision Zero for Youth Leadership Award
Applications are now being accepted for the 2023 Vison Zero for Youth Leadership Award.
This award seeks to recognize places in the United States that are leading the way in prioritizing pedestrian and bicyclist safety for children and youth where the risk is greatest.
Any city, county or local tribal government advancing child and youth pedestrian and bicycle safety, regardless of what the program is called, is encouraged to apply by October 21, 2022. The winner will be announced in Spring 2023.
Places all over the country have taken concrete steps to make their communities safer for children. This call for nominations is an opportunity to learn about these successes and spotlight exceptional progress.
Now in its sixth year, the Vison Zero for Youth Leadership Award is given annually by the National Center for Safe Routes to School, in partnership with the FIA Foundation and the University of North Carolina Highway Safety Research Center.
Learn more at www.visionzeroforyouth.org/awards/us.