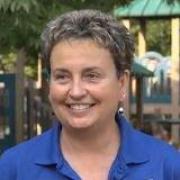 Organization: Kiser Elementary School
Title: Site Coordinator Kiser PreK-8 School
Location: Dayton, OH
Teresa Wendell began advocating for shared use when Ohio courts dissolved a three-decades-long order to use busing to alleviate school segregation. Dayton Public Schools seized the opportunity to rebuild the public system by returning to neighborhood schools. To demonstrate the full potential of schools as centers of their communities, a coalition of Dayton public and private partners conceptualized and supported five Dayton elementary schools as pilot "centers" of neighborhood redevelopment. These Neighborhood School Centers (NSCs) demonstrate what is required for schools to serve as community centers. As a Site Coordinator, Teresa works to supports the school principal by managing the contributions of community partners who bring resources to the school site. The goals of the Neighborhood School Centers are to improve student achievement, be the first choice school of the neighborhood, and serve as a hub of activities for the families in the neighborhood.