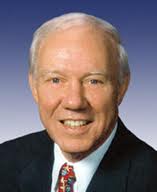 Congressman James Oberstar, D-MN from 1974-2010
It is with a very deep sadness and extremely heavy heart that the Safe Routes Partnership mourns the passing of 79-year-old Congressman James Oberstar (D-MN from 1974-2010). His death was announced this morning through a statement from his family. Congressman Oberstar passed peacefully in his home in Maryland during his sleep; apparently he was not ill.
Congressman Oberstar served in Congress for 36 years and was part of the "old ways" of doing business with courtesy while working across the aisle to be bi-partisan. In my life, I have never met anyone more vibrant, alive, visionary and dedicated to helping America and Americans lead better lives.  That's what Mr. Oberstar was all about – helping people.  He dedicated his whole life to that cause, and he made amazing things happen. He was a legend in his own time and will be sorely missed, but always remembered.  His legacy will live on each and every day when kids and families all across America are able to safely walk and bicycle to schools. 
The lawmaker, who spoke about five different languages (often times in the same speech), had a huge sense of humor and charisma, and served as chairman and ranking member of the powerful Transportation and Infrastructure Committee (T&I Committee) for many years. He used his amazing skills to broker deals across the aisle that would change the face of transportation in America and usher in a new era for non-motorized transportation. 
"Childhood obesity is an epidemic in the United States.
In 1980, six percent of children were obese; today, it's 17 percent.  This is leading to serious health problems like diabetes and heart disease.
The Safe Routes to School program is giving us the opportunity to change the habits of an entire generation to ensure that healthy children grow to be healthy adults."
- Rep. James Oberstar in a January 7, 2010 press release congratulating Minnesota for forming a new state Safe Routes to School network
In 1991 Congressman Oberstar played a critical role in ensuring that the ISTEA transportation bill included money for the first time for walking and bicycling, and he set up a structure requiring each state to hire a bicycle and pedestrian coordinator, and to create a statewide bicycle plan.  He was a get-it-done man, and always seized the moment to make the most of every opportunity. 
I first had the opportunity to meet Mr. Oberstar 14 years ago in March 2000 on St. Patrick's Day at the Sea Otter Bike Classic in Monterey, CA. There was a bike industry/advocacy forum on getting everyone to work together. Mr. Oberstar challenged the crowd after he had seen a presentation by the Centers for Disease Control and Prevention on the rise in childhood obesity and the decline in kids walking and bicycling to schools.  He said we were raising a generation of "transportationally-challenged children" and he planned to launch Safe Routes to School pilot programs as a way to "change the habits of an entire generation." He asked the bike industry and advocates to help.
The next month I flew to Washington DC to talk further with Mr. Oberstar about his plans and to volunteer my help.  I had recently written a research paper at the end of 1999 with WTB President Patrick Seidler about Safe Routes to School in the U.K., as well as the success of interconnected bike networks, and I was eager to participate in making our mutual vision a reality. 
Mr. Oberstar and I hit it off from the beginning and he "deputized" me as the person to carry out a federal pilot Safe Routes to School program in Marin County, CA for the 2000-2001 school year.  He urged me to "do it right" as he planned to take the data from our local project and demand a national Safe Routes to School program be authorized by Congress.
There was no way I was going to let Mr. Oberstar down. I put my best and most creative energy into the project and organized the most talented team I could find to ensure the success of the Marin Safe Routes to School federal pilot program. I flew back to DC frequently to tell Mr. Oberstar about how Safe Routes to School was working – and the unique and collaborative roles of parents, kids, schools, police and engineers.  We were successful locally with getting more kids active (with no increase in injuries), and health journal articles were written about the success, creating demand throughout the nation. 
Within six months after the data was released on the Marin program, Mr. Oberstar would talk about how 26 states already wanted Safe Routes to School and it was time to go national – he always thought big and had the power, influence and intelligence to make it happen.  I started working with Mr. Oberstar and his staff on crafting national legislation to bring Safe Routes to School to all of America, and in June 2003, Mr. Oberstar introduced a bi-partisan marker bill called the PACE Act which included funding for Safe Routes to School in all 50 states.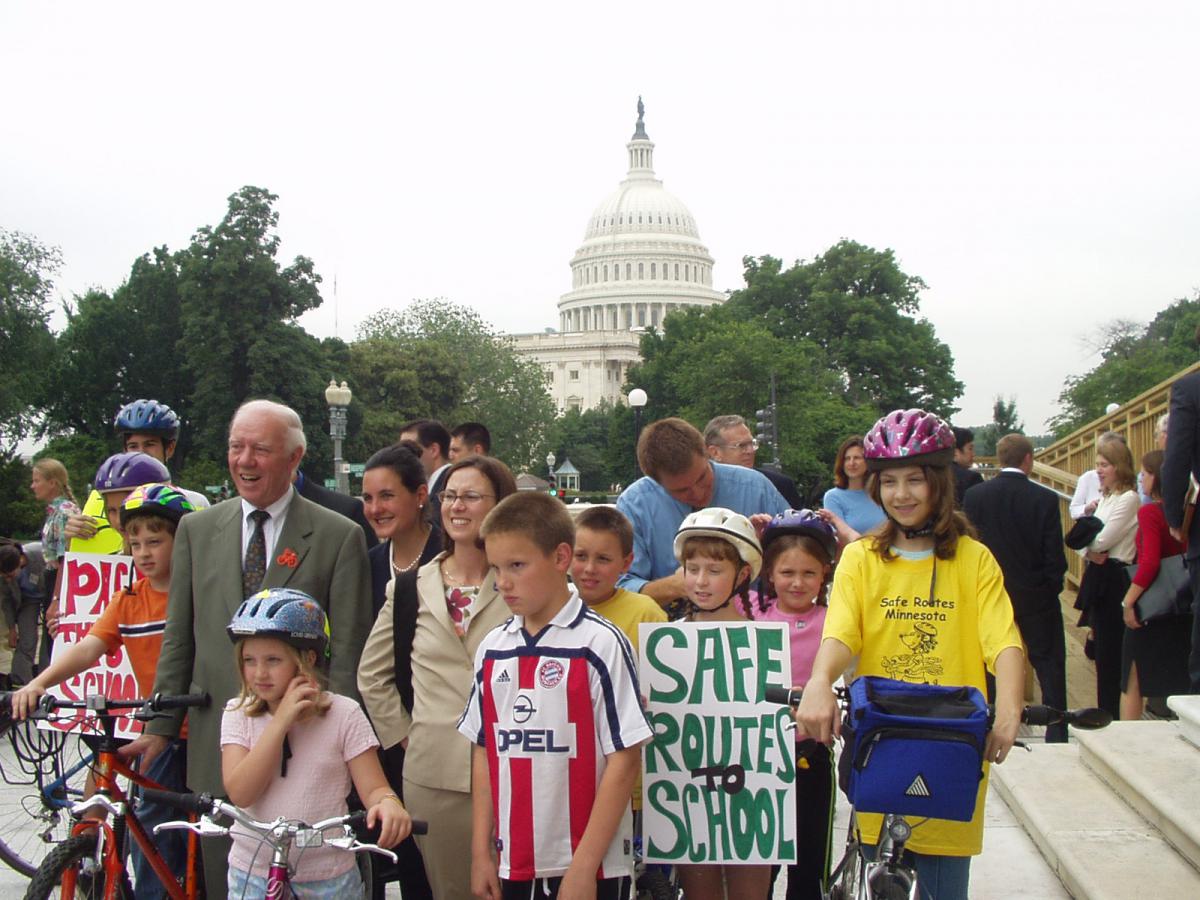 Congressman Oberstar introducing the PACE bill
Over the next two years, bicycle advocates launched a campaign to get Safe Routes to School included in the 2005 federal transportation bill SAFETEA-LU, and I kept flying back to Washington, testifying at forums that Mr. Oberstar asked me to speak at.  Mr. Oberstar was the ranking member of the T&I Committee at the time, and he told the Chairman Don Young (R-AK), that it was his top priority to include the program in SAFETEA-LU.  It happened, and $612 million was authorized in 2005 for all 50 states to launch Safe Routes to School educational and infrastructure programs, and to require states to hire full time Safe Routes to School coordinators. History had been made, and it was because of Congressman Oberstar.
There are now more than 14,000 schools in all 50 states nationwide benefitting from the federal Safe Routes to School program, and we have the late Congressman Oberstar to thank and honor.  In speeches in recent years Mr. Oberstar talked about Safe Routes to School as one of the most important programs he authorized in Congress and one of the programs he is proudest of.
We will all miss Congressman Oberstar terribly; the Safe Routes Partnership is dedicated to ensuring that his legacy for Safe Routes to School, healthy transportation and healthy kids will live on.  We are redoubling our efforts in Mr. Oberstar's memory to fulfill his vision of "changing the habits of an entire generation."
Our deepest sympathy and prayers go out to Congressman Oberstar's wife, four children, grandchildren, extended family, current and former staff, colleagues, and the tens of millions of people who he touched throughout his life through his wit, kindness and generosity. 
Congressman Oberstar, may you rest in peace.  Thank you for your amazing life.