Greater Than the Sum of Our Parts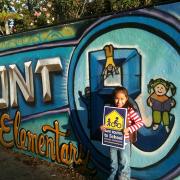 I love living in Southern California, especially the Los Angeles neighborhood I call home, Echo Park. Right now, the jacaranda trees are in bloom and the jasmine flowers make our sidewalks smell heavenly.

I've been with the Safe Routes Partnership since January 2010 as the California advocacy organizer, but just last month transitioned into my new role as Southern California policy director, where I am focusing my efforts on transportation policy priorities at the County level, particularly in regards to transportation finance, equity, data collection and evaluation.

This year, Southern California celebrated its arts and culture with an unprecedented collaboration among 60 Cultural Institutions to celebrate artists and their work. Of the many things that emerged from this effort, one of my favorites is a video from Ice Cube (take a few minutes to watch it - it's awesome), celebrating the houses in Los Angeles designed by The Eames. Ice Cube captures so many sentiments about LA that resonate with me personally and professionally - and in regards to our goals here in SoCal. At one point during the video he says, "it's not about the pieces but how the pieces work together." One of my goals is to support, and be a part of a coalition made up of a wide variety of stakeholders that work together and build off each other's endeavors to make a strong voice for healthier and more active SoCal.   


Some of our greatest partners in Southern California don't currently think of themselves as transportation advocates - but their goals to improve their local neighborhoods are contributing to the same goals we have. Our job is to help support all these pieces together at the County and Regional level here in SoCal. So many great efforts are already underway to make our communities safer and more enjoyable to walk and bicycle in; part of our work at the Safe Routes Partnership is to help bring these efforts together to ultimately impact our transportation policy and investments.  

I'm particularly excited about our work to come in Los Angeles County, because it's my home. I love it for all the many different types of people who live here and call it home. Because of its vast diversity, I'd like to think that everyone can find a place in Los Angeles to belong, and that's a community characteristic I absolutely love, and now our work can help support those communities through visions of transportation safety and equity.