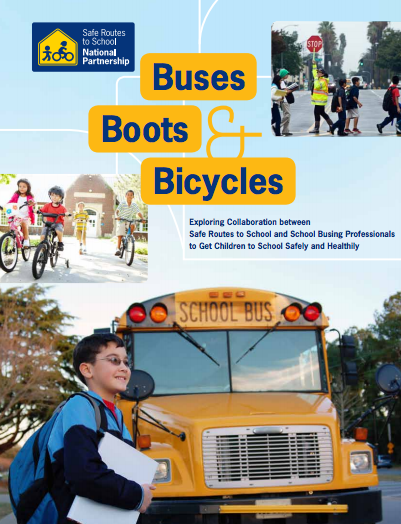 Today, most student transportation departments around the country focus primarily on getting students to school on yellow school buses. But student transportation isn't just about school buses. Students are also getting to school by foot, bicycle, car, and public transportation. Decisions about how students travel to school affect their health and safety, as well as traffic congestion, air pollution, and the health and safety of the community at large.
In April 2014, the Safe Routes Partnership convened a group of representatives from different areas in the school transportation field, including school bus professionals, student transportation department directors, urban planners, and Safe Routes to School advocates, to discuss school bus funding formulas, trends within the field, and areas of collaboration. The resulting report, Buses, Boots, and Bicycles: Exploring Collaboration Between Safe Routes to School and School Busing Professionals to Get Children to School Safely and Healthily, presents a comprehensive look at student transportation in the United States and proposes ways that Safe Routes to School professionals and transportation directors could collaborate more effectively to ensure that all children safely access their local schools.
Buses, Boots, and Bicycles addresses questions such as:
How are students actually getting to school today?
What are the policies that dictate how a school district or state approaches student transportation?
How are student transportation expenses funded, and how do funding structures vary among states?
How do funding formulas create incentives or disincentives for walking, bicycling, and Safe Routes to School?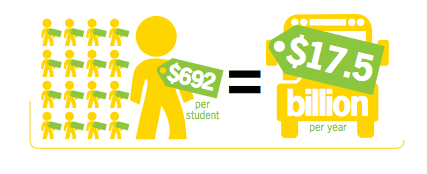 The report concludes with a series of recommendations for student transportation departments and Safe Routes to School advocates to work together to develop a multimodal approach to school transportation that encourages students who live within a reasonable distance of school to walk or bicycle, and students who live farther away to ride the bus instead of being driven.
Click here to download the report.
On July 17 at 2 p.m. Eastern, the Safe Routes Partnership is hosting a free webinar with representatives from student transportation departments and Safe Routes to School programs to discuss the implications of the report and to share experiences and ideas for working together. Register here.