Building Parks is Not Enough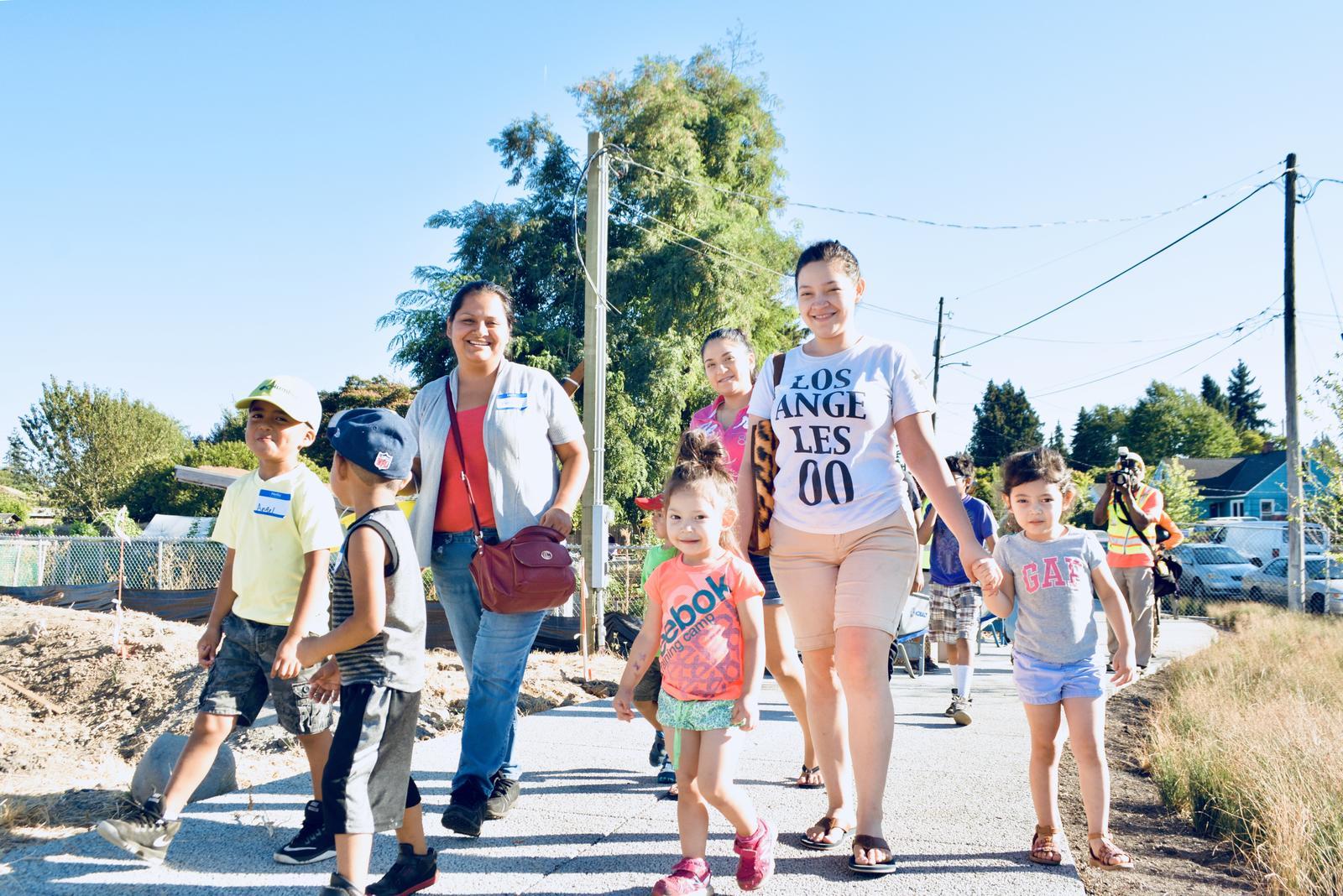 Safe Routes to Parks is a national framework for ensuring that people can walk, bike or roll to a park or greenspace in a way that is appealing and safe from traffic and personal danger. Photo Naim Hasan Photography
This blog post was written by Healthy Parks and Places Manager Danielle Sherman and originally published on the Intertwine Alliance.
Kʰunamokwst Park, the first park in Northeast Portland's Cully neighborhood, opened on May 16, 2015. This summer, the neighborhood's second park, Thomas Cully, is slated to open on 25 acres of a former landfill. Verde, an environmental justice organization based in Cully, has led advocacy efforts to establish these places for years -- though they know that building the park itself is not enough. It's imperative to also ensure that neighborhood residents can safely access the park to enjoy its many benefits.
Parks are places where people can be active, spend time in nature, and connect with friends and neighbors. In some communities, lack of sidewalks, crosswalks and speed humps to support walking, bicycling and rolling -- plus a presence of violence and crime -- make walking or bicycling to a park unsafe or uncomfortable, resulting in people either not visiting or limiting their visits. This scenario is more pronounced in low-income communities and communities of color that have experienced historic disinvestment and marginalization, which manifests in continued inequities like higher rates of weight-related chronic disease.
In Cully, the challenge is less with violence and crime, and more with lackluster infrastructure to support walking and bicycling. Only 34 percent of Cully streets have sidewalks, and many streets are gravel and unmaintained. Investments in parks, sidewalks, roads and other infrastructure have occurred piecemeal and at a slower rate than in other parts of the city.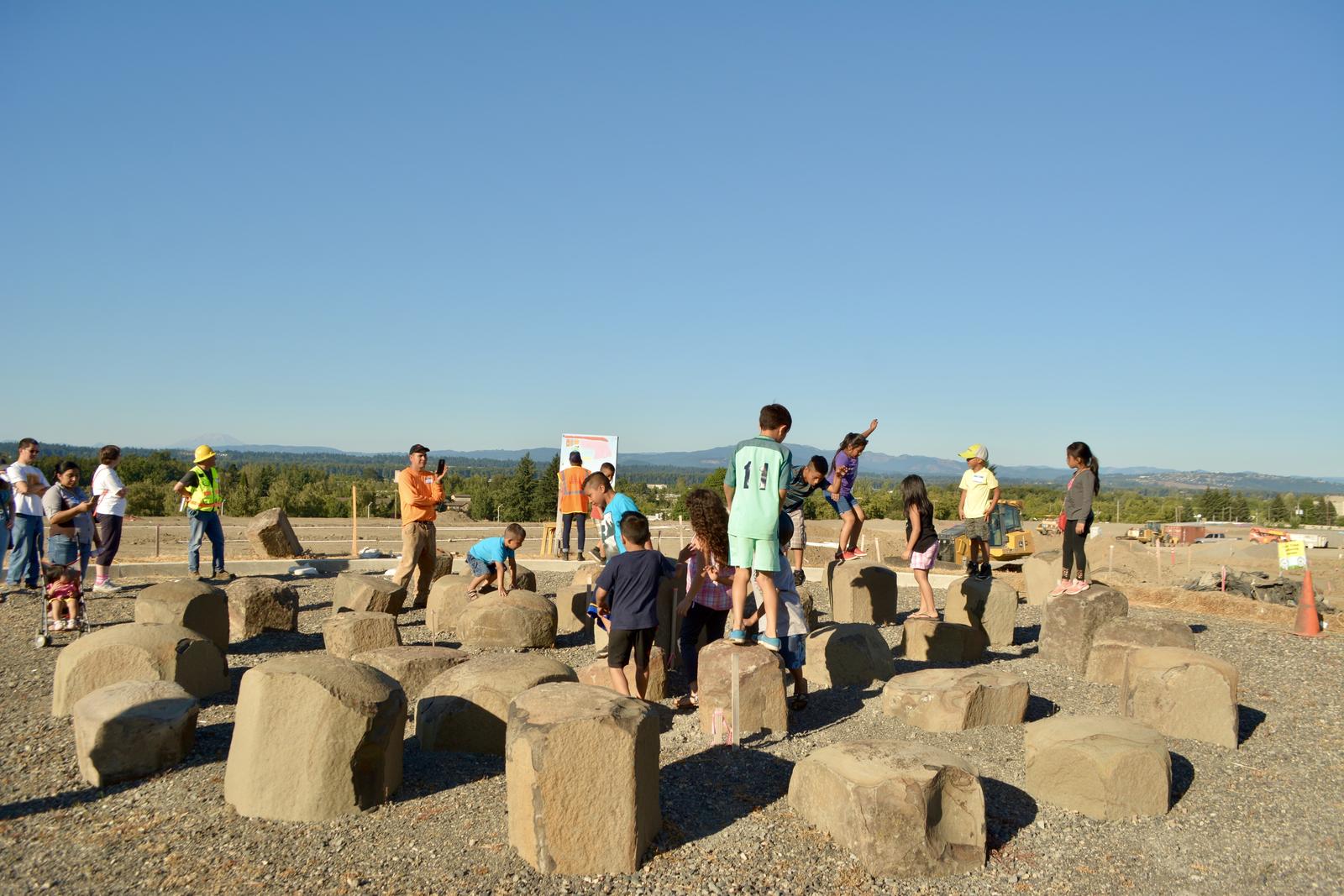 The Native Gathering Garden at Thomas Cully Park, opening Summer 2018. Photo Naim Hasan Photography
Cities across the country are working to overcome challenges like these, which make it hard for people to enjoy the physical, social and mental-health benefits of parks, through a framework called Safe Routes to Parks. An effort to ensure that people can walk, bike or roll to a park or greenspace in a way that is appealing and safe from traffic and personal danger, Safe Routes to Parks is of particular importance to people without cars, who rely on walking, bicycling and public transportation to get around; kids, who are not old enough to drive themselves to parks; and seniors, who may prefer not to drive.
Cully is one of 10 communities around the country recently selected to join the Safe Routes to Parks Activating Communities program. An initiative of the Safe Routes Partnership, funded by The JPB Foundation, the program provides in-depth technical assistance (coaching, virtual and in-person trainings, and resources) and grant funding to organizations working to improve safe, secure park and open space access for people of all ages and abilities in low-income communities and communities of color.
Each community within the cohort will develop an action plan for improving active travel to local parks and greenspaces and implement the early steps. Potential strategies include improving safe street design by installing or upgrading sidewalks, crosswalks and traffic speeds. Another might be improving how safe people feel when walking to the park by enhancing street lighting, building better, more trusting relationships with law enforcement, and addressing disinvested properties and dumping. In an effort to promote equitable access to parks, cohort organizations are focusing their efforts and resources in neighborhoods that need it the most.
As the Safe Routes to Parks Activating Communities lead in Cully, Verde is engaging the Living Cully Coalition, a collaborative of Verde, Native American Youth and Family Center, Hacienda Community Development Corporation, and Habitat for Humanity. To improve safe access to its neighborhood parks, the Living Cully Coalition plans to install a wayfinding system incorporating maps, signs and community art that resonates with and is designed by the people of color and low-income communities located in the neighborhood. It will also implement an active transportation curriculum to encourage safe walking and bicycling to local parks, and determine next steps for transportation infrastructure improvements that connect people to local parks and green spaces.
For more information about or potential involvement in Cully's Safe Routes to Parks initiative, contact Verde's Community Programs Manager Anna Gordon at annagordon@livingcully.org. 
Using the lessons learned and examples from the 10 Safe Routes to Parks Activating Communities grantees, the Safe Routes Partnership will develop publicly available resources to help other organizations and communities improve safety and equitable access to parks.
For more information on the Safe Routes to Parks Activating Communities program, please contact Healthy Parks and Places Manager Danielle Sherman at danielle@saferoutespartnership.org and sign up for e-news to hear about the second round of funding available in late fall 2018/early winter 2019.