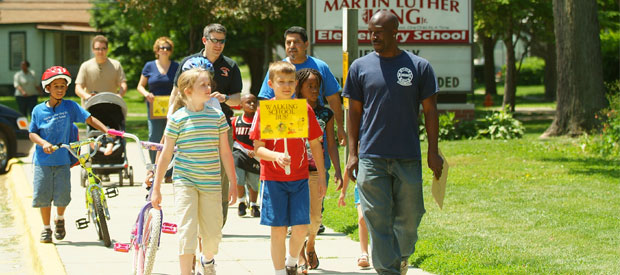 About Us
Safe Routes to School National Partnership
Launched in August 2005, the Safe Routes to School National Partnership is a fast-growing network of hundreds of organizations, government agencies and professional groups working to set goals, share best practices, leverage infrastructure and program funding and advance policy change to help agencies that implement Safe Routes to School programs.
The Safe Routes to School National Partnership's mission is to advance safe walking and bicycling to and from schools, and in daily life, to improve the health and well-being of America's children and to foster the creation of livable, sustainable communities.
The National Partnership's was recognized with one of six 2012 Centers for Disease Control and Prevention Pioneering Innovation Awards, receiving the Game Changer Award. This award recognizes an organization that has accomplished activities that have led to paradigm shifts that have advanced obesity prevention efforts. Read Deb's blog from the event and view our press release. 
In 2007, the National Partnership initiated the state network project to establish Safe Routes to School networks in nine states and the District of Columbia. For 2010 and 2011, the project was funded in the District of Columbia and nineteen states. The Robert Wood Johnson Foundation (RWJF) provided a three-year renewal grant of $2,999,725 to build on policy wins from recent years, and advance built environment improvements in all 50 states and the District of Columbia. Specifically, in advancing state-level policy reform in seven states (Calif., Fla., Miss., N.C., N.J., Ohio and Tenn.), and in developing a national learning network to share best practices among advocates for advancing street-scale improvements and joint-use agreements that develop opportunities for cities and schools to collaborate on creating safe places for kids to play and engage in healthy physical activity
The National Partnership is managed by a staff and governed by a Steering Committee comprised of organizations and agencies that have been developing Safe Routes to School programs and initiatives at local, state and national levels. Our hundreds of partners utilize their communication channels to spread the word about Safe Routes to School opportunities, news, challenges and collaborations. The National Partnership includes such partner affiliates as the AARP, the American Heart Association, the PTA and Active Living By Design.
Request a Safe Routes to School National Partnership brochure.