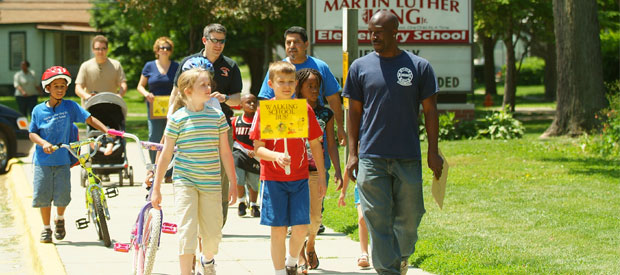 About Us
Safe Routes to School National Partnership
The Safe Routes to School National Partnership is a nonprofit organization that improves the quality of life for kids and communities by promoting active, healthy lifestyles and safe infrastructure that supports bicycling and walking. We advance policy change; catalyze support for safe, active and healthy communities with a network of more than 700 partner organizations; and we share our deep expertise at national, state and local levels with those who are helping propel our mission forward.
Founded in 2005, the Safe Routes to School National Partnership's mission is to advance safe walking and bicycling to and from schools, and in daily life, to improve the health and well-being of America's children and to foster the creation of livable, sustainable communities. 
The National Partnership is managed by a board and staff. Our hundreds of partner affiliates utilize their communication channels to spread the word about Safe Routes to School opportunities, news, challenges and collaborations. Our partner affiliates include AARP, the American Heart Association, National PTA, Active Living By Design, and more.
Our mailing address:
2323 Broadway Ave., Ste 109B
Oakland, CA 94612
Since 2005, PeopleForBikes' long-standing support and leadership have been the foundation from which the Safe Routes to School National Partnership has grown into a leading entity for active transportation and healthy community design in the movement to reduce childhood obesity. PeopleForBikes hosted the National Partnership from 2005 to 2014, providing initial funding and generous grants for ongoing general operating support. The National Partnership gained independent non-profit status in 2014, and we value the continuing support and generosity of PeopleForBikes as a partner.

PeopleForBikes is the movement to improve bicycling in the U.S. By collaborating with millions of individual riders, businesses, community leaders, and elected officials, PeopleForBikes is uniting Americans to boost bicycling on a national level for results that can be seen locally.