Michelle Lieberman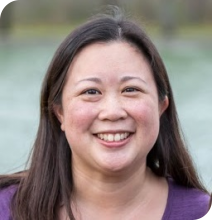 Consulting & Program Support Director
Michelle Lieberman serves as the Senior Technical Assistance Manager for the Safe Routes Partnership. In this role, she provides technical assistance through the Safe Routes Partnership's emerging consulting program to local communities around the country that are seeking to improve their built environment and Safe Routes to School initiatives.
In addition, Michelle develops publications and other resources, assists with local and state campaigns, and runs webinars and trainings. With a background in urban planning and public health, Michelle is committed to developing healthy communities through planning and policy development that supports the health and well-being of all community members.
Prior to joining the Safe Routes Partnership, Michelle was a Community Planner and Senior Associate at RBF Consulting. While at RBF, she provided consulting services on a variety of planning projects for local and regional governments. Her core service areas included public engagement, active transportation, downtown and neighborhood revitalization, and community visioning. Michelle was instrumental in expanding RBF's services in healthy communities planning, as well as launching the company's employee health and wellness program.
Michelle began her career as a project manager and residential designer for a large architecture firm. She holds a Bachelor of Architecture from Cal Poly Pomona, a Master's degree in Urban and Regional Planning from the University of California, Irvine, and a Graduate Certificate in Public Health from the University of Florida. Michelle is a California native and currently resides in Orange County with her husband and dog.