Tennessee
---
Quick Links 
Safe Routes to School in Tennessee | Other Statewide and Regional Programs | Success Stories | Tennessee Partner Affiliates | Existing Legislation and Policies 
---
Safe Routes to School in Tennessee
Funding for Safe Routes to School 
August, 2014   Tennessee Gov. Bill Haslam announced Safe Routes to School funding totaling $1.8 million for 17 municipalities in Tennessee.  The grants will be used by multiple schools to improve sidewalks, crosswalks, signs, and fund safe walking and biking educational activities.  The Safe Routes to School Program is a statewide initiative designed to make bicycling and walking to school a safer, more appealing and healthier alternative for students.
"Increased physical activity is key to improving the health of Tennessee families," Haslam said. "The Safe Routes to School Program helps communities across the state create safer walking and biking environments for students and encourages a healthy lifestyle."
Details for each of the 17 grants can be found here: http://www.tdot.state.tn.us/news/2014/saferoutes/
The grants are made possible through a federally funded program administered by the Tennessee Department of Transportation. 
"The Safe Routes to School program integrates health, safety, traffic relief, and environmental awareness, all under one umbrella," said Commissioner Schroer. "Funds may be used for infrastructure projects and non-infrastructure activities that directly support increased safety and conveniences for students to walk and bike to and from school."
 Since 2005, the Safe Routes to School grants have funded improvement projects at 167 schools across Tennessee.  Click on the year to view a complete listing of the 2007, 2008, 2009, 2010 and 2012 award recipients in Tennessee. Visit the Tennessee Safe Routes to School program website for more information.
There are two pots of federal dollars currently available for Safe Routes to School programs and projects. The first pot is from the old transportation law (SAFETEA-LU), and does not require matching funds. This pot is still available in many states, find out about Tennessee here. The second pot of money is from the Transportation Alternatives Program, in the current transportation bill (MAP-21), and it requires local matching funds. Find out how the Tennessee Department of Transportation is handling this transition here.
Find out more information on federal funding by exploring our MAP-21 Resource Center, reviewing the most current State of the States funding report and reading the most recent national news on Safe Routes to School.
For other Safe Routes to School resources, check out our library of resources, webinar archive or blogs.
State Advisory Committee
The State Advisory Committee has up to fifteen members selected by TDOT to oversee the  Tennessee Safe Routes to School program. Members are selected to assist in program planning and policy guidance but have no legislative or administrative authority.
State Outreach Programs
More info coming soon.
Evaluation Methods
Safe Routes to School workshops are being held across the state to aid in understanding the program. It is required that a representative of the applicant (school employee or city/county staff) attend a workshop. View the 2012 Safe Routes to School Workshop form.
Tennessee Partner Affiliates
Find out which organizations in your state have pledged their support for the Safe Routes to School movement. If your organization isn't yet a partner affilate, we would love for you to join us; it's free! Find more info on joining here.
Existing Legislation and Policies
More info coming soon.
Other Statewide and Regional Programs
More info coming soon. 
Success Stories
If you would like to submit a success story for consideration, please email it to Margaux Mennesson.
Medina Middle School Bike Rodeo April 4th and 5th 2012
Medina Middle School, City of Medina, and TDOT- Safe Routes to School Program partnered in a Bike Rodeo held for the 4th, 5th, 6th, 7th, and 8th grades to educate the students on the rules of the road while bicycling on city streets, the correct use of hand signals, and the benefits of wearing bicycle helmets along the correct way to wear the helmets.  An interactive game of "Simon Says" rallied the students at the end of the event utilizing what they learned to visually show how to use hand signals by bicycling.
There were 824 students who participated in the events which represented an exciting 94% of the student population.
The program was presented to the 4th and 5th grades on Wednesday, April 4, 2012 and 6th, 7th, and 8th grades on Thursday, April 5, 2012. The Fire Department, Police Department, and the School Counselor were active mentors to the students as they provided the safety information at each of their stations.
Each student was given a Safe Routes to School t-shirt to keep in which they wore to the event.  They were also given a Bicycle Safety Flyer along with a nylon Safe Routes to School "sling pack". We were so proud that 95% of students participating in this event wanted a bicycle helmet to take home.  Each was given one at the bicycle helmet safety station. During the "Simon Says" event, the winners were given a black Safe Routes to School duffle bag to keep.
Originally a Hornet Bike Race was scheduled but due to inclement weather, an alternate plan of action had to be set in place.  Medina Middle School is committed to utilize the bicycles provided by TDOT Safe Routes to School program in the physical education classes to further promote the health benefits of cycling. 
At the end of the event, 2 bicycles donated by Wal-Mart were given through a drawing to students.  We are very proud to note that one of the winners was a young man in 7th grade that presently walks to school from the Southern Hills Subdivision where this Safe Routes to School sidewalk project is going to be constructed.
Publicity from the Jackson Sun newspaper and the Milan Mirror newspaper gave great reviews along with TV coverage by WBBJ-TV of Jackson, TN. Attached are copies of the press releases.
Great reviews were received of the event and of the organization and implementation of the activities by students, faculty, and guests.
Summer 2012 cycling safety rules at Blythe-Bower Elementary Schools parking lot
The Cleveland, Tennessee Safe Routes to School program, with help from Main Street Bicycle Cooperative of Chattanooga and the city of Cleveland, hosted over 100 kids plus families for a bicycle rodeo in May of 2012.
Free helmets were available, as were food, bicycle safety checks and tips and a slow race where balance was important and the last finisher won.
Safe Routes to School has been good for the community, said parent Jillian Goodine.
Her kids don't bike or walk to school, she said, "because there's too many red lights. They did ride their bicycles to the science fair. And you see more people walking on the new sidewalks -- wheelchairs and stuff."
Safe Routes to School is a federal grant administered by the state to encourage more exercise for kids living close to schools. It includes sidewalks, lights, signs and safety education material.
"We started the school year with a walk to school," said the city's Teresa Torbett, who administers the program. "We are closing the school year with the bike rodeo."
The program continues next year with more safety education, Torbett said.
Cleveland applied for and received a grant for the Blythe-Bower Elementary School community. City school board members recently said they would like to apply for another program, for the Arnold Memorial Elementary School neighborhood and eventually, all neighborhood city schools.
Tennessee State Network rallies to support student bicyclist and mom
In August, a mom in Eastern Tennessee was surprised when her daughter, who normally rides her bike to and from school, was brought home in a police car. The policeman had stopped her daughter on her way home and asked her to get into his car. The policeman then told the mother that she would be arrested and reported to Child Protective Services if she continued to allow her daughter to bike to school. The mom, being an avid cyclist contacted the League of American Bicyclists, who then referred her to the Tennessee Safe Routes to School Network. The State Network immediately rallied in support of the mom and daughter and saw this as a wonderful opportunity to provide support and education to a community in need. The daughter had previously attended a bike rodeo sponsored by the League of American cyclists and was knowledgeable of the rules of the road and also always wore her helmet when cycling. But the community in general was not knowledgeable or supportive of the rights of cyclists or of children biking to school.
On September 1, 2011 The State Network had one of its largest levels of participation during its monthly network meeting. The network showed amazing support and energy for this opportunity. The website for Walk Bike Tennessee, which is actively involved with the state network, had thousands of comments on its blog, including one from Lance Armstrong, showing support for the mom and daughter and for children biking to school in general. The Network contacted the police department and Mayor's office to offer support and education. A Senior Planner with the Metropolitan Planning Organization in Nashville and network member, offered to train officers about the laws governing bicyclists in Tennessee. Another network member who works for the Economic Development Council in a county near the community offered his services as a League of American Bicyclists Instructor. As a result of these efforts, the daughter is still being allowed to bike to school. The town is actively working to establish a Safe Routes to School Committee and is planning to apply for a Safe Routes to School grant during the next round of funding in 2012.
Because of the national attention that this incident received, the national TV program "The Doctors" interviewed the mom during one of their shows. The mom gave credit to working with the Safe Routes to School Network and the panel of doctors unanimously agreed that more children should be biking to school and communities need to build roads that make it safer.
This is a wonderful example of how a state network can provide support and education to promote children biking and walking to school and change the habits and minds of a community!
Medina, Tennessee: Walking & Biking to School - Safely
Medina, a small city in West Tennessee, has had growth of 155% in just five years. City officials, school faculty, and local citizens are concerned with safe and active school travel in the community. Students walk on narrow, grassy, and often muddy street banks or cross and walk along busy, congested two-lane rural streets. By including a variety of stakeholders during the school travel plan process, Medina applied for and received a Safe Routes to School Grant from the Tennessee Department of Transportation.
Medina identified strategies involving the five "Es" of Safe Routes to School to address the barriers of walking and biking to school. By creating educational materials, encouraging and promoting a Walk to School Day, and enforcing lower speed limits in the school vicinity, students can make use of safe, physically active transportation. This grant will allow for the engineering of sidewalks and street crossing improvements and assist with programs to teach safe pedestrian and cycling skills as well as active lifestyles. Evaluation strategies will be utilized to gauge the success of this project.
Medina Middle School is proud to showcase it "Power 90" fitness program that encourages students to exercise cooperatively in a more concentrated way. By partnering with the Safe Routes to School Program, Medina is "On the Move" and committed to improving the health and safety of children.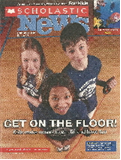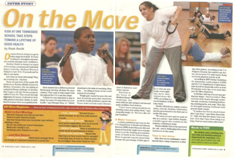 Medina Middle School featured in Scholastic News Magazine for its "Power 90" Fitness Program
Memphis, Tennessee: Safe Routes to School - Frayser Elementary School
Frayser Elementary School is located in an area with a high concentration of inexperienced teenage drivers from the adjacent high school. The area surrounding the school is predominantly single family residential and includes commercial development and excessive traffic volume. The primary safety issues include U-turns, speeding vehicles, pick-up and drop-off traffic, left turning vehicles conflicting with student pedestrians, faded crosswalks, and jaywalking students.
Frayser was awarded $250,000 by the Tennessee Department of Transportation's Safe Routes to School Program to package a comprehensive plan addressing the needs of an inner city walkable neighborhood. Dr. Susan Roakes, Associate Professor of City and Regional Planning and her students coordinated a number of planning meetings with multiple project partners. This collaborative effort created a Safe Routes program focused on safety and convenience for the Frayser community.
Engineering activities for Frayser include a raised median, two crosswalks, and three restriped crosswalks. Education activities include programs to develop an age-appropriate curriculum with lesson plans that use games and puzzles, whereby children are encouraged to make appropriate choices in described scenarios. The safe driving campaign will have as its goal changing the social acceptability of speeding, U-turns, and not stopping for crosswalks. Enforcement activities include monitoring and enforcement of speed limits, no U-turns, stopping at crosswalks, and pedestrian safety practices by the Memphis Police Department North Precinct. Encouragement activities include the creation and maintenance of walking "school busses" of students and parents and special events that highlight walking and make participation fun. This includes a monthly "Walk to School Day", each with a different theme. Evaluation activities include a multi-faceted protocol that addresses multiple measures to determine the program's success. Data will be collected before, during, and at the end of the grant period.
Frayser is an area seeking to revitalize itself through building neighborhood organizations, dealing with crime and other safety issues, cleaning up physical obstacles, improving community health, and enhancing educational opportunities. This project not only addresses concerns about the safety of children attending Frayser Elementary but is a significant step in neighborhood capacity building, as partners join together to meet mutual goals.
Contact:
Diana Benedict
(615) 253-2421
Diana.Benedict@tn.gov
Nashville, Tennessee: School Zone Signage Made Possible
A small private school in east Nashville operated for six years without a designated school zone. Private schools in Nashville are required to pay for their own school signage, and this particular school had limited funds due to the population it served and the small number of students in attendance. Upon examination of the area surrounding the school, Music City Moves! made a simple recommendation in order to address speeding in the area. With a small portion of funds set aside for infrastructure improvements through grant monies, the Partnership was able to offer the school signage for a school zone, and helped arrange for Nashville Public Works to put the signage in place.
Music City Moves! and Walk/Bike Nashville have been serving low-income schools in the Nashville area for approximately 5 years now. The Safe Routes to School program was initially set into motion with funds from the Robert Wood Johnson Foundation's, Active Living by Design grant.