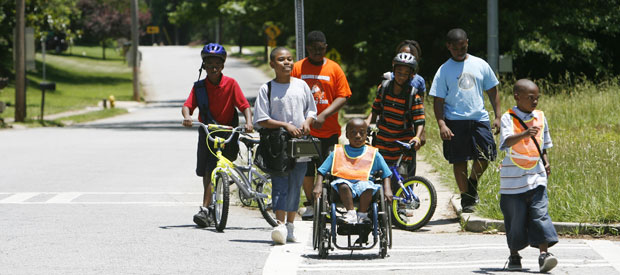 Getting Started Locally
Since 1969 the number of students who walk and bicycle to school has decreased from 48 percent to 13 percent. Simultaneously, in the United States, we've seen an exponential increase in the number of overweight or obese children skyrocket from four percent to 35 percent. Safe Routes to School projects that work to get more students walking and bicycling safely to school are building momentum through an effort to reverse these unsettling trends. As programs and projects have emerged and blossomed the Safe Routes to School movement has developed and refined a surefire approach to getting  more students walking and bicycling. Learn more about the necessary components of an effective project below.
Building Your Task Force
While a local Safe Routes to School program usually starts with one or two "champions" who initiate and manage the process, it's important to involve a wide array of representatives from your community. Safe Routes to School programs are unique in that they represent the interests of many different stakeholders everywhere from school districts to environmental groups to safety advocates. Build collaborative partnerships among many unique stakeholders to increase the scope and reach of your program.
Your Safe Routes to School program will involve the local school and making changes to city and/or county routes, any successful program will directly engage the city, the county and the school. The types of people to invite to serve on your Safe Routes to School Team include:
School Personnel (the principal and teachers)
The PTA
Parents
Students
Elected Officials
Engineers
Police Officers
City and/or County Planners
Health Officials
Non-profit Organizations
Business and Community Leaders
Since each Safe Routes to School program is distinct to the particular community in which they operate, this list of stakeholders can always be expanded upon. In your community, who else might be an important partner in getting more students walking and bicycling? The most successful programs use the expertise of the task force to create a program that is specific to your community. The task force should consider and decide how to implement and integrate the Five E's (Evaluation, Engineering, Education, Encouragement and Enforcement) of Safe Routes to School through the action plan.
Creating An Action Plan
The Safe Routes to School Task Force can be instrumental in creating a comprehensive action plan based on the Five E's. Effective action plans utilize the key stakeholders from the task force to make informed decisions about the most potent strategies to get more students walking and bicycling. Ideally the task force will work with the results of evaluation efforts to identify areas of concern for parents and administrators, safety hazards on the route to school and policies and procedures that can support Safe Routes to School in the long term. Armed with this information an action plan and timeline can be outlined that systematically addresses hurdles for students walking and bicycling by adequately addressing areas of improvement including Evaluation, Education, Engineering, Enforcement and Encouragement.