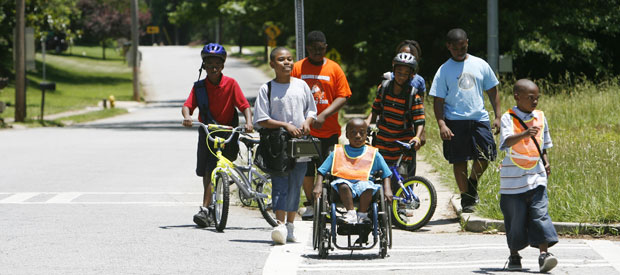 Getting Started Locally
The following resources will help you take the first steps toward implementing a Safe Routes to School program that will get more kids walking and bicycling to and from schools in your community.
Forming Your "Team"
While a local Safe Routes to School program usually has one or two "champions" who initiate and manage the process, it's important to involve a wide array of representatives from your community. Safe Routes to School programs are built on collaborative partnerships among many stakeholders that should be brought together to create a Safe Routes to School "team."
Since your Safe Routes to School program will involve the local school and making changes to city and/or county routes, any successful program will directly engage the city, the county, and the school. The types of people to invite to serve on your Safe Routes to School Team include:
School Personnel (the principal and teachers)
The PTA
Parents
Students
Elected Officials
Engineers
Police Officers
City and/or County Planners
Health Officials
Non-profit Organizations
Business and Community Leaders
Safe Routes to School programs are unique to the particular community in which they operate. The most successful programs use the expertise of the team of local stakeholders to create a program that is specific to your community. The team should consider and decide how to implement and integrate the "5 E's" for Safe Routes to School, which include: Evaluation, Engineering, Education, Encouragement, and Enforcement.
SRTS PowerPoint
Download our Safe Routes to School PowerPoint presentation (5MB) that you can use or modify for local use.
"How-To" Resource
A great resource for getting started locally is the Safe Routes to School Toolkit published by the National Highway Traffic Safety Administration. We encourage you to review this how-to guidebook, which includes surveys, checklists, sample press releases, resolutions of support, fact sheets, curriculum, success stories, statistics, and more.
Other Resources
Many resources and an online guide are also available through the National Center for Safe Routes to School.
For more resources, please see our Helpful Links.