Deb Hubsmith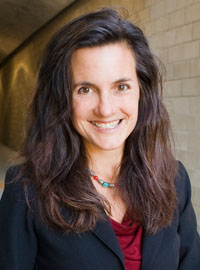 Deb Hubsmith
Founder

Deb Hubsmith is recovering from treatment for acute myeloid leukemia (AML). Send cards and well wishes to: P.O. Box 663 / Fairfax, CA 94978. Follow her progress regularly and learn more about AML at www.lovehealingdeb.com.
Deb Hubsmith is a motivational speaker, author, active transportation advocate and cancer survivor.  
She is the founder of the Safe Routes to School National Partnership, served as its director for nine years, and has championed bicycling and walking advocacy and outreach for two decades at local, regional, state and national levels.  During her tenure as the National Partnership's Director, Hubsmith nurtured the organization from an all-volunteer group to a powerful coalition including more than 700 partners, and a $3.3 million annual budget, with nearly 30 staff dispersed throughout the country. She continues to serve on the Board of the National Partnership and as a Strategic Advisor.
Hubsmith started as a grassroots advocate in the 1990's and as the founding executive director of the Marin County Bicycle Coalition she co-led the development of Marin County, California's award-winning Safe Routes to School pilot program.  Hubsmith participated in the development of the nation's first statewide Safe Routes to School legislative program in California, and for five years led the advocacy campaign to pass the first Safe Routes to School legislation by the U.S. Congress, resulting in $1.1 billion for Safe Routes to School in all 50 states, and programs in more than 15,000 schools. Hubsmith also led efforts to develop and pass the federal legislation which created the Non-motorized Transportation Pilot Program that produced research which shows that investment in bicycling and walking is good for health, the environment, communities and safety.
Hubsmith has testified before congressional committees about the benefits of bicycling and Safe Routes to School, serves as an inspiring keynote speaker, is a media spokesperson, and has written research papers and reports.  In 2012 and 2013, Hubsmith co-led the California advocacy campaign and coalition that secured the new $130 million per year Active Transportation Program which is making walking and bicycling funding much more available in California, especially to disadvantaged communities.  In 2012, the Centers for Disease Control and Prevention recognized Deb Hubsmith's passionate leadership and the exemplary work of the National Partnership with a Pioneering Innovation Award as a "Game Changer" in advancing policies and strategies to prevent and control obesity. 
In the fall of 2013, Hubsmith was suddenly diagnosed with acute myeloid leukemia. Hubsmith blogs about her recovery at www.lovehealingdeb.com and is currently writing an autobiographical book about healing, advocacy, spirituality and the environment.  Learn more about Deb's numerous contributions to the Safe Routes to School movement and bicycle and pedestrian advocacy in this video tribute to her leadership.
Hubsmith's career with transportation advocacy launched nearly 20 years ago after a serious car collision; since that time she has used a bicycle, walking and public transit as her primary means of day-to-day transportation.  She was born in New York City and combines an east coast "get it done" attitude with West Coast "creativity."  Hubsmith has lived in the San Francisco Bay Area for more than 20 years and enjoys yoga, nature, dancing and music.