Deb Hubsmith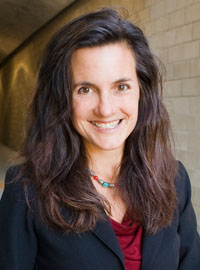 Deb Hubsmith
Founder and Strategic Advisor
Deb Hubsmith is on medical leave recovering from treatment for acute myeloid leukemia (AML) through 2014. Send cards and well wishes to: P.O. Box 663 / Fairfax, CA 94978. Follow her progress regularly and learn more about AML at www.lovehealingdeb.com.
Deb Hubsmith was the founding director of the Safe Routes to School National Partnership (National Partnership) which includes more than 600 partner organizations. The National Partnership advocates for safe walking and bicycling to and from schools, and in daily life, to improve the health and well being of America's children and to foster the creation of livable, sustainable communities. In 2015, Deb will return from her medical leave in a new role as strategic advisor to the National Partnership.  Deb will provide consultation on policy and strategy nationwide and in California.
Deb has worked in non-profit management for 20 years, and on Safe Routes to School advocacy, program implementation and legislative development for 15 years. She started as a grassroots advocate and co-led the development of Marin County, California's award-winning Safe Routes pilot program, and assisted with the campaign and development of the nation's first statewide Safe Routes to School program which was created through California legislation in 1999.
Deb then took her local and state successes to the national level where she led a grassroots campaign and worked with Congress to write the legislative language for the federal Safe Routes to School program which launched in 2005 as part of the federal transportation bill SAFETEA-LU. More than $1.1 billion has since been allocated to all 50 states and Washington, DC for state programs that are resulting in thousands of miles of bicycle and pedestrian facilities and educational programs that support active transportation for children nationwide. Under the new transportation bill MAP-21, Deb workedwith partners to implement an overall national campaign strategy and leading coalition efforts in California to maintain and increase dedicated funding for active transportation through state legislation.
Deb serveed as an energetic spokesperson for Safe Routes to School, and has testified before United States Congressional Committees on all the ways Safe Routes to School is improving the health of children, communities and the environment nationwide. Deb has worked with the National Partnership staff and their hundreds of partner affiliate organizations to build a national movement that advances street-scale improvements and shared use agreements through programs, policy change and publicity at local, regional, state and national levels. She got her start in grassroots transportation advocacy in 1996 after a serious car collision; since that time Deb has used a bicycle, walking, and public transit as her primary means of day-to-day transportation.
Deb's passionate leadership and the exemplary work of the Safe Routes to School National Partnership were recognized with one of six 2012 Centers for Disease Control and Prevention Pioneering Innovation Awards. The National Partnership was recognized with the Game Changer Award, which is awarded to an organization that has accomplished activities that have led to paradigm sifts that have advanced obesity prevention efforts. Read Deb's blog from the event and view our press release.